Please scroll down for further reports.
Howff Anniversary Dinner 2013
The Howff Club's 124th Anniversary Dinner celebrating the birth of Robert Burns was held at the Globe Inn, Dumfries on Thursday, January 24. This evening brought together 80 Howffers amid the hallowed atmosphere of Burns' favourite inn. There is perhaps really nowhere else to be on this special evening and Howffers were very much aware of their privileged status.
Chairman was Ian McIntyre, president of the Howff who had the undiluted pleasure of introducing a variety of songs, recitations and toasts performed with style and flair by leading enthusiasts of Burns.
The evening started with a rousing performance of "There was a Lad" led by Howffer Frank Curran, which was soon followed by the haggis being piped in by Pipe Major Callum Watson and addressed by the chairman. After dinner, the immeasurable talents within the club could not be suppressed. John Caskie's melodious voice was at its best with "Ay Wauking O" while world-class accordionist James Coutts from Fife took full advantage of the exhilarating ether within the Globe to entertain the company.
A highlight of Howff anniversary dinners is the greetings from kindred clubs that are read in parts with some witty mischief and a measure of the apocryphal by club secretary David Smith. Salutations had been received from dozens of Burns clubs in England, the US, Australia and Europe.
The chairman introduced folk singer Jimmie MacGregor and invited him to deliver the toast to the Immortal Memory of Robert Burns. MacGregor needs little introduction in Scotland, his fame coming from the regular television appearances with Robin Hall and latterly with his MacGregor's Gathering radio programme.
Now, at the age of 82, he has a shock of white wavy hair, retains the cheeky smile and has an infectious warmth that was born in Glasgow.
MacGregor recalled how in his earlier days the vast repertoire of songs by Burns had not really been fully appreciated and taken advantage by the folkies. His works were in the domain of tenors and sopranos but today all folk groups have a few Burns' songs in their performance.
He believed that Robert Burns saw himself as part of an ancient Scottish tradition, owing a debt to much older poets such as Ramsay and Dunbar. Burns also demonstrated his consideration for Robert Fergusson "his elder brother in misfortune", who died at the age of 24, by commissioning a headstone in Canongate Churchyard.
This was an act that MacGregor felt was particularly poignant and it revealed Burns' compassion for a neglected talent and the revulsion for unmerited privilege, which was a recurring theme in the poet's life.
During the last years of his life, in failing health and struggling financially, Burns devoted his time "building and refurbishing" many traditional songs. The sheer sweat of this unpaid work was remarkable and the notion that Burns was merely an "inspired rustic" was nonsense. The rewriting, corrections, punctuation of manuscripts was the work of a man with considerable talents.
MacGregor continued his journey on a musical theme opining that "A Man's a Man for a' That" should be Scotland's national anthem. It would be one of the rare anthems that didn't proclaim violence and aggression.
He closed with a parody on "Auld Lang Syne" but before that he summed the poet up in the words of Byron, a notorious harsh critic of fellow poets, "What a mind, tenderness and roughness, delicacy and coarseness, sentiment and sensuality, soaring and grovelling, dirt and deity all mixed in one compound of inspired clay."
Piper Callum Watson played a lament but spirits were soon raised when Les Byers led the company in "A Man's a Man".
The programme was temporarily punctuated when Bert Hastings, a Howffer for 25 years and president in 1994, was presented with honorary membership.
Proceedings resumed with songs from well-known Scottish folk music artist Ian Bruce and a dramatic recitation of Tam o' Shanter by Donald Shamash.
Former MEP, Alasdair Hutton gave a witty toast to the Lassies O' in rhyme, which was followed by Howff club librarian Gordon Johnston with a cocky and swaggering recitation of Burns' "The Inventory."
Several songs and musical interludes from the artistes were well supported by Howffers who were still, despite the passing of midnight, in good and lively form.
Junior vice-president, John Clark gave a fitting appreciation of the singers and musicians and the chairman was thanked by past-president Frank Manson. And as the final fading chords of Auld Lang Syne drifted upwards into the heavens, the Globe Inn was left in peace with its resident ghosts in raucous harmony.
Charnwood Lodge Burns Lunch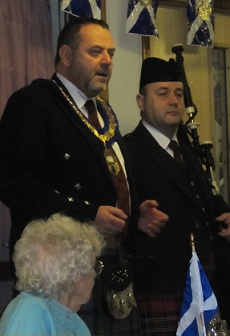 A record number gathered for the annual Burns celebration provided by the club on 27th January for residents of the care home. This year, the event was a Burns Lunch rather than a supper and staff transformed the foyer with flags and bunting into a tartan grotto, complete with portraits of the Bard.

President Ian McIntyre introduced the top table which consisted of John Clark JVP, Gordon Johnston, Librarian, Bill Welsh, past president, Callum Watson, club piper, Lee McQueen, accompanist and David Smith, Honorary Secretary who intoned the "Selkirk Grace". In his introduction, the president said that this function was an important event in the club calendar and members looked forward to coming to Charnwood each year.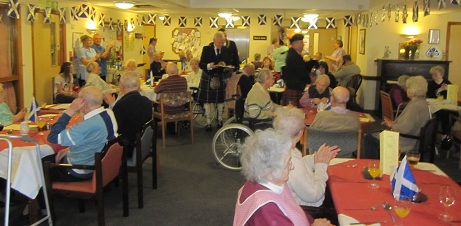 After the traditional Scotch Broth, the President addressed the Haggis with gusto and the company consumed the haggis, tatties and neeps with some enthusiasm. Jean Armour's Meringue Nest was a succulent dessert.

The programme got underway with the Loyal Toast proposed by the Chair and Bill Welsh set the scene with a song, followed by a recitation from Gordon Johnston and music on the accordion from the talented Lee McQueen. The toast to the "Immortal Memory of Robert Burns" was submitted with quiet authority by Ian McIntyre and a haunting lament on the bagpipes from Callum Watson tugged at the emotions. Bill Welsh brought a lighter note with a Scottish air and the "Lasses, O" was toasted with wit by John Clark who included a verse or two of "My Luve, is like a Red, Red, Rose." Following another recitation from Gordon, Bill and the entire company raised the roof with the "Star o' Rabbie Burns". One of the residents, Mrs. Pat Walsh, proposed a hearty vote of thanks and a spirited version of "Auld Lang Syne" brought a happy and enjoyable gathering to an end.