2006/2007 Events
06/04/07 - Club Games Nights in association with Marchmount Bowling Club
Dispite the Easter holiday some club members entered into competition against members of the bowling club with carpet and table bowls, domino and snooker, billiards all being competed for in a night of fun together with some serious competition, followed by the usual scotch pie & peas.

29/03/07 - Tom Johnstone - - Close to Dumfries Midsteeple
Tom Johnstone told the packed out room about the history of the Midsteeple, through its construction to its current downfall, and finished with some quotes from reports written in the 18th & 19th century detailing the squallor in which the inhabitants of the closes of Dumfries town centre lived. As usual Tea and coffee was served with biscuits but extra cups had to be requested.

22/02/07 - Andy MacKay - - Read all about it
Andy entertained a full house with tales of the world of journalism from local news to national press.



25/01/07 - Anniversary Dinner

One of the most powerful and passionate toasts to the 'Immortal Memory' of Robert Burns was heard by members of the Burns Howff Club at their 118th Anniversary Dinner in the Globe Inn, on 25th January. The principal guest, Mr. Harry Hutchison, a native 'Doonhamer' who was a club member in the 1950's, left Dumfries in 1960 to live in Dover, enthralled his listeners with a vivid picture of 18th century Dumfries at the time of Burns' death in 1796, a critical time in the history of Scotland, and declared that the poet would still feel at home in the Globe Inn of today. Quoting extensively from Burns' works, the speaker described the scenes from 'A Cottar's Saturday Night' as a wonderful tribute to the rural life of simple lowland Scots. Robert Burns had a strong religious belief and was an active member of the Kirk up to his death, a tradition inherited from his father whom he revered. The nation owes Robert Burns a tremendous debt for preserving the Scottish tongue and leaving the best collection of love songs in the world. Mr. Hutchison stated that men are judged by their heart and men like Burns are needed today, as never before, quoting from 'A Man's a Man, for aw' that' and declared that Robert Burns is still a living force in the Nation. The speaker received a standing ovation and was admitted an honorary member of the club.

The toast to 'The Lasses, O'', was proposed by Mr. David Adam FRICS, of Dundee, who captivated the company with his rich store of anecdotes and stories, managed to chastise and praise the ladies at the same time. Past president Jim McAlister toasted the 'Drouthie Cronies' and summoned up some of the colourful characters in the club from years gone by, great Burnsians such as George McKerrow, 'Cutty' Black, David Campbell, Willie Fergusson and David Miller, all of whom enlivened club gatherings in the Globe Inn for many years.

Contributing to an outstanding entertainment programme were guests from Dumbarton Burns Club, president Bill Kean who played fiddle selections and past president Ian McLean who sang from Burns' 'Merry Muses' collection. Special guests included Phil Winning who demonstrated his skill with his award winning recitation of 'Tam O' Shanter' and Donald Shamash who brought a new dimension to 'Holy Willie's Prayer'.

Members were delighted when president Bill Welsh presented past president Frank Curran with a certificate of honorary life membership, in recognition of his many years service to the club, principally as Musical Director.

Two delegates from Dumfries Burns Club made a fleeting visit and were welcomed by the president. Ted Murray and Donnie McCuaig brought fraternal greetings from their own celebration in the Cairndale. Burns Howff Club members, past president David Baird and senior vice president Alistair Johnstone were charged by the president to visit the Cairndale and return the compliment.

Earlier, the president referred to the 2009 anniversary year of the birth of Robert Burns and stated that a programme of commemorative events was in place to mark this milestone, which had been designated by the Scottish Executive as the 'Year of the Homecoming'. Fundraising was underway and included a 'Spring Fling' at the Easterbrook Hall on 23rd March, featuring the ceilidh band 'Two Left Feet'.

Concluding a night to remember, the 'Artistes' were toasted by junior vice president David Miller who with the finesse for which he is noted, contrived to include the croupiers, catering and bar staff and the 'Chairman' was proposed by past president David Baird.

The accompanist was Ernie Currie and club piper was Calum Watson.


30/11/06 - St. Andrew's Night Dinner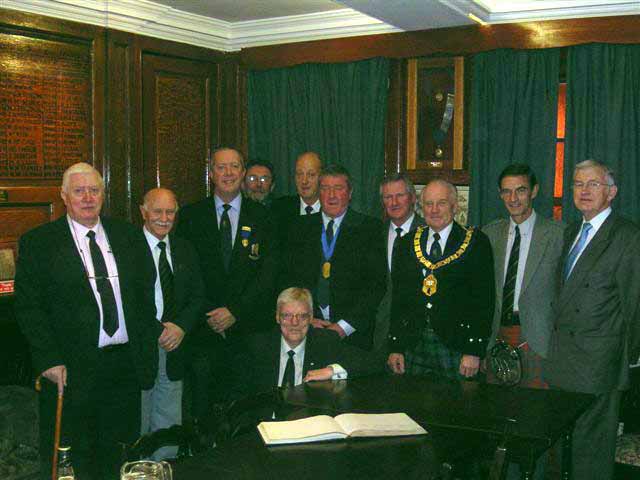 Members of the Burns Howff Club gathered in the Globe Inn, Dumfries to celebrate St. Andrew's Night. After dinner, the toast to 'Auld Scotia' was proposed by the principal guest, Commodore Eric Thompson MBE, RN(Rtd) from Helensburgh. In a lively and witty address, the speaker catalogued the inventiveness of Scots and the Scottish Nation and quoted widely from his own verse. Commodore Thompson illustrated his toast with musical interludes on what he referred to in naval parlance as an 'Organ, Mouth, Small' and occasionally burst into song to emphasise a point. The speaker quoted from Kipling's view of the Scots and poked some fun at our southern neighbours by stating that St. Andrew was a historical person and a known Apostle but St. George was not mentioned anywhere in the Bible. Commodore Thompson praised some great Scotsmen of the past, citing such geniuses as James Clerk Maxwell, Alexander Fleming and countless others in the field of engineering, arts and medicine. Robert Burns himself had redefined and exported the ethos of the Scottish Nation in words, which still resounded through the centuries. The speaker received a standing ovation and was presented with a commemorative tankard by president Bill Welsh.

A superb entertainment programme was sustained entirely by club members including songs from Frank Curran, John Caskie Jim McAlister and Donnie McCuaig. Past president Donald Urquhart recited to great effect from W. D. Cocker's 'The Deluge' and 'The Broken Bowl'. Honorary members Max Houliston and Ian Kirkpatrick delighted the company with their musical elections on the accordion and fiddle. Delegates from Dumfries Burns Club were welcomed; their secretary Dennis McMorrin and Dr. Archie Downey who brought fraternal greetings from their members.

With his customary finesse, junior vice president David Miller proposed a vote of thanks and a night to remember concluded with the traditional 'Auld Lang Syne'. The accompanists were Max Houliston and Ian Kirkpatrick.


23/11/06 - Ronnie Crichton - - Burns and other Poets, The Influences

Report to Follow

04/11/06 - Robert Burns in Illustration & Song

Our Honorary member, Professor David Purdie presented an illustrated talk on the life and times of Robert Burns at the Theatre Royal Dumfries on November the 4th. The Theatre Royal was opened in 1792 and is the oldest working theatre in Scotland. Robert Burns was associated with the theatre at this location until his death in 1796.

Special reference will be made to his years at Ellisland Farm and in Dumfries.
This talk received a five-star accolade at the Edinburgh Festival During August 2006 and the Scotsman Newspaper said "if you are interested in the life and works of Burns this is as good as it gets".

The presentation features images released from the Scottish national archives showing Burns, his friends and collaborators in Ayrshire, Edinburgh, and dumfriesshire and the scenes which inspired his greatest poems and songs.

The talk was interspersed with songs of Burns from Sheena Wellington, one of Scotlands greatest living performers of Burns words and music - and whose rendition of "a Man's a Man for a' That" at the inauguration of the Scottish Parliament will never be forgotten by anyone who heard it.

This was a very interesting and enjoyable evening presented to a almost capacity audience.

26/09/06 - Ted Murray - - An Englishman living in Scotland
Club Member Ted Murray delivered his views and experiences of his time based in Scotland. He delivered this in a light hearted and yet very informative manner. Mr Murray managed to demonstrated to the company the origin of many of the local dialects and words.

28/09/06 - Angus Middleton - - Burn's Galloway Tour
"The clubs Winter Lecture Programme for the current season opened on 28th September when president Bill Welsh welcomed Angus Middleton, newly elected president of the Burns Federation, spoke on Burns' Galloway Tour in July 1793 with his friend John Syme. Illustrated by folk music, Mr. Middleton told of their visits to the home of Viscount Kenmure and the Herons of Kirroughtree and recounted the tale of Burns ruining a pair of new boots when he was obliged to wade into Loch Ken when their boat ran aground. Angus was thanked by secretary Dave Smith and accepted a club tie as a token of appreciation




17/09/06 - Club and committee members travelled to meet Dumbarton Burns Club for the annual Bowling challenged match lead by Alistair Johnstone (Vice President) shown reluctantly passing the quaich to the winning host team after an exciting and very closely competed match. Our thank go to Dumbarton for a great day and friendly welcome.