Jean Armour Dinner 2015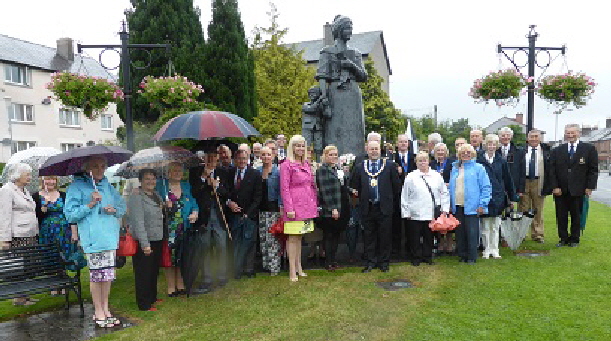 Heavy rain on 6th July didn't dampen the spirits of members and friends of the Burns Howff Club who gathered at Jean Armour's statue in Dumfries to honour the memory of the wife of Robert Burns.

The company was welcomed by President Callum Watson who placed a floral tribute on the plinth and invited past President John Clark to deliver a tribute to Burns' "Bonnie Jean". A lament on the bagpipes was played by Colin Lawrie, a guest from Dumbarton Burns Club before the company processed to the Globe Inn for the 11th Jean Armour Dinner.

Delegates from Dumfries Burns Club, St. Michaels Burns Club and Dumfries Ladies and Annan Ladies Burns were introduced with a special welcome to Annette Garrick and Graham Hill of Helensburgh Burns Club.

After dinner, a toast to "Jean Armour" was delivered by Andrea Thompson, commissioning editor of Dumfries & Galloway Life magazine, who eloquently spoke on the travails suffered by faithful Jean who put up with her husband's philandering. "Rab should have had twa wifes" she is recorded as saying.

The toast to "The other women in Burns' life" was submitted by Alison Tait, Chief Executive of the Robert Burns World Federation, who examined the influence on the poet by many female admirers over the years and which gave rise to some of the greatest love songs ever written.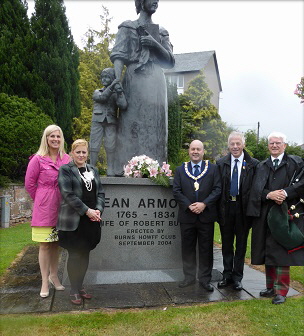 After dinner entertainment was sustained by John and Lesley Young from Dumbarton with songs, solo and duet, to guitar accompaniment, couthy recitations from Avril Kerr, songs from Ian McIntyre and a hilarious sketch, "Robert and Jean", performed by Jane Brown and Gordon Johnston in which "Robert "was chastised by his wife for carousing at the Globe Inn to all hours and coming home "fu" when his apologies were not accepted!

Peter Kormylo, President of Dumfries Burns Club, conveyed thanks for the hospitality received on behalf of the delegates from visiting Burns Clubs and Colin Gibson, junior vice president, Burns Howff Club, proposed a vote of thanks to the artistes and all who had contributed to the success of the evening. The accompanist was Willie McRobert.

A rousing chorus of "Auld Lang Syne" brought a memorable night to a close

To read John Clark's Oration which was delivered at the statue select the link to John Clark Oration