St Andrews Night Supper at the Globe Inn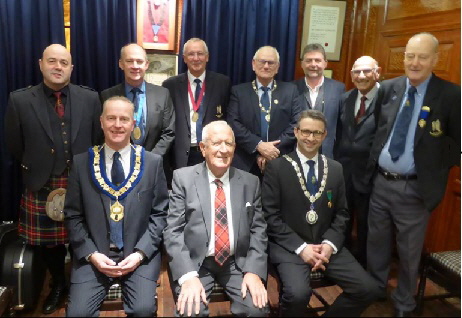 President William Johnston welcomed the company which included Honorary Member Len Murray, a former defence solicitor, one of the most famous in the country.
After dinner, Mr Murray proposed a toast to 'Auld Scotia' in which with great wit and passion, he compared the achievements of a small country of Five Million with much larger states. In the 16th century, Scotland was the first to introduce compulsory education and was seen as the most literate nation in the world. In the renaissance of the 18th century, Scotland produced David Hume, the greatest philosopher of the age, Adam Smith who revolutionised economics with his Wealth of Nations and the Adam brothers who led the world of architecture and Henry Raeburn, the portrait painter sought by the famous. Winston Churchill is on record saying that only the ancient Greeks contributed more to mankind than Scotland and invited the company to drink the toast with joy and prideŁ. The speaker received a standing ovation and accepted an inscribed tankard from the president.
Contributing to the entertainment programme were singer and guitarist Ken Hilsley and Doug Carroll, making a welcome return to the club with songs traditional and contemporary. Donald Shamash appeared in his alter ego as Holy WillieŁ and prayed to great effect. John Young delighted the company with his tenor voice and Willie McRobert made his accordion sing with tunes old and new. Club Librarian Gordon Johnston recited Burns Address tae the Unco Gui and a Parcel o' Rogues. David Callander, president of Dumbarton Burns Club, brought fraternal greetings from his members and spoke of the close friendship link between the clubs.
Bill Graham, junior vice president proposed a comprehensive vote of thanks before the evening ended with Auld Lang Syne.