Club Events 2014 to 2015 President John Clark
11/05/14      Sunday         Coldstream Bridge
18/05/14      Sunday         Haggis competition, Globe Inn
20/05/14      Tuesday       St. Michaels Plaques clean up.
27/05/14      Thursday      Club Bowling Night, Newall Terrace
24/05/14      Saturday      Mauchline Holy Fair
30/06/14      Monday       Jean Armour Dinner, Globe Inn
03/07/14      Thursday      Club Treasure Hunt
06/07/14      Sunday         Wauchope Cairn, Hawick
19-20/07      Sat-Sun       Burns Pageant, "Love, Life & Liberty", Dumfries
20/07/14      Sunday         Kilmarnock Cross
21/07/14      Monday        Brow Well
16/08/14      Saturday      Outing, Riverside Museum, Glasgow
12-14/09      Frid- Sun     RBWF Conference, Irvine
16/09/14     Tuesday        Tam O' Shanter Comp. Globe Inn
21/09/14      Sunday         Bowling match, Dumbarton
18/10/14     Saturday        Whistle Competition,  Ellisland
30/10/14     Thursday        Hallowe'en Supper
28/11/14      Friday           Dumbarton BC  St. Andrew's Night
30/11/14      Sunday         St. Giles St. Andrew's Day Service
01/12/14     Monday         St. Andrew's Night Dinner
15/12/14     Monday         Christmas Dinner, Globe Inn
10/01/15      Saturday       Burns Seminar, Glasgow Uni
23/01/15      Friday           St. Michaels Commemorative Service & wreathlaying
23/01/15      Friday           Dumbarton BC Burns Supper
25/01/15      Sunday        Charnwood Lodge Burns Lunch
26/01/15     Monday        126th Anniversary Dinner
07/02/15      Saturday      SSCBA Schools Comp, Lockerbie Academy
27/03/15      Friday          Games Night, Marchmount
07/05/15     Thursday       Annual General Meeting
Committee Meetings
Main Business
26/05/14 Monday Inaugural meeting & soiree
16/06/14 Monday Jean Armour Dinner tickets & payment
26/08/14 Monday  Season's programme
06/10/14 Monday Hallowe'en Supper tickets
20/10/14 Monday Confirmation & payment + St. Andrew's tickets
10/11/14 Monday Confirmation & payment, St. Andrew's tickets
08/12/14 Monday Anniversary Dinner tickets
12/01/15 Monday       Confirmation & payment
02/02/15 Monday General
13/04/15 Monday    Pre AGM
Winter Club Nights
February Club Night
Elaine Kennedy was guest at the Winter Club Night on 26th February and enthralled a good attendance of members and friends with a talk on "Maria Riddell, friend of Burns".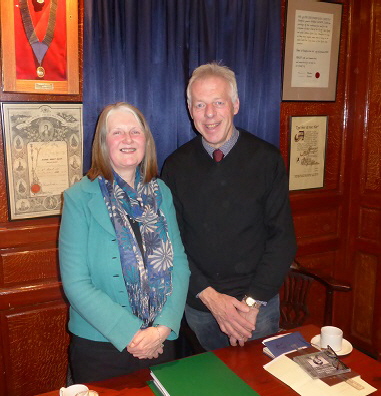 Elaine who was previously a curator at Dumfries Museum brought the 18th century lady to life with a fascinating account of a gifted woman who for a time was the poet's neighbor at Friars Carse. Maria was born in England and at age 16, she accompanied her father to the West Indies where she met the dissolute Walter Riddell, younger brother of Robert Riddell of Glenriddell whose home was Friars Carse. Maria married Walter and in 1792 settled at Goldielea which was renamed Woodley Park.
Robert Burns probably first met Maria in the latter part of 1791 at Friars Carse and a friendship was formed.  She was witty and had beauty as can be seen from the portrait by Lawrence but was also a published author with an interest in natural history.  Their friendship was shattered following an incident during a social evening at Friars Carse when Maria refused to accept the apology from Burns and it was some years before they were reconciled.  After the poet's death, Maria wrote a glowing obituary in the Dumfries Courier which later appeared in the Edinburgh and London journals.  After her husband's death, Maria moved to London where she married a Dragoons officer but she died after one year in 1808.
Following a question and answer session, Elaine was warmly thanked by President John Clark.
Anniversary Dinner 2015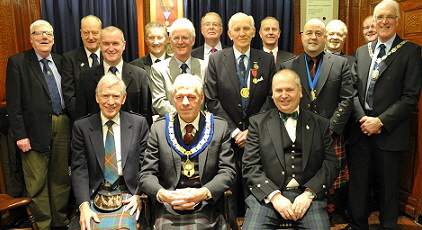 Former Director of Education for Dumfries and Galloway, Fraser Sanderson, toasted the "Immortal Memory" of Robert Burns at the Burns Howff Club's 126th Anniversary Dinner held in the Globe Inn, Burns' favorite "howff".
Mr. Sanderson asked, "What is a bard" before looking at how the poet developed from his early beginnings in rural Ayrshire to become globally accepted as Scotland's National Bard. The speaker discussed Burns' ability to capture human emotion and his broad range and diversity from ordinary life and the drinking ballads like "Tam O' Shanter" through love songs to his clear patriotism against a background of the late 18th century, a period of rapid change and Anglicization.
Mr. Sanderson considered Scotland post referendum and how there appears to be a new national confidence and shared vision of a better and fairer society with equality and opportunity for all, irrespective of political views- a confidence Burns would have recognized and shared.
Fraser received a standing ovation from the company and accepted a certificate of honorary club membership from President John Clark.
Earlier, the president welcomed the haggis, borne aloft by the Globe Inn's Jane Brown as "Poosie Nancie" accompanied by a stirring air from Pipe Major Callum Watson,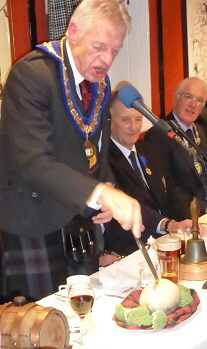 club piper and senior vice president, before being addressed by the president with gusto.
Secretary David Smith announced 93 greetings received from Burns Clubs and Caledonian Societies worldwide and from absent members who were carrying out "missionary work" elsewhere.
The traditional toast to "The Lasses, O" was delivered by Ayrshireman Niven Rennie, President of the Scottish Police Superintendants Association, in a hilariously funny and original style but also reflected on the women and romance in Burns' life.
Contributing to the entertainment programme were John Caskie with a selection of the songs of Burns and a dramatic recitation of "Tam O' Shanter" from prize winning Bobby Jess.  Music was provided by James Coutts on the accordion and by Ian Kirkpatrick on the club's Millennium Fiddle.
Special guests from Dumbarton Burns Club were introduced, President George Dunwoody and past president Joe Platt.  Mr. Dunwoody spoke of the warm friendship between the clubs and brought fraternal greetings from his members.
A surprise addition to the programme was the appearance of past president Jim McCambley who gave a wonderfully droll recitation of "A drunk Man's Address to the Haggis", complete with props and removable teeth.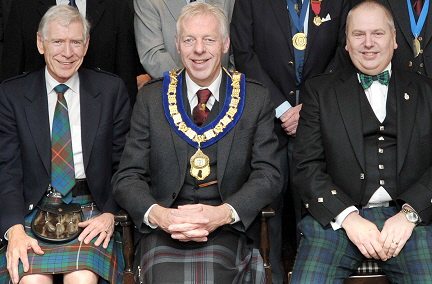 Junior vice president William Johnstone proposed a comprehensive toast to the artistes and all who had contributed to the success of the evening and evening and past president Godfrey Bedford toasted the "Chairman".
John Caskie and Bill Welsh led some spirited community singing before the company rose in harmony with Burns' international song on parting, "Auld Lang Syne"
Charnwood Lodge Burns Lunch 2015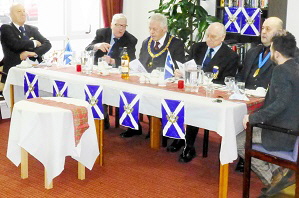 The annual Burns celebration provided by the club for the residents of Charnwood Lodge was a great success this year with a record gathering for lunch on 25th January.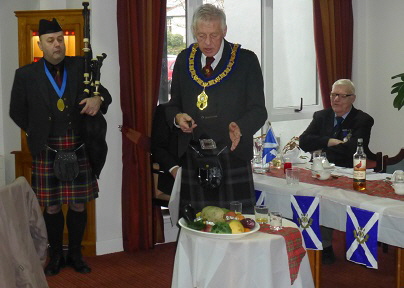 After an excellent meal including a spicy haggis,  piped in by Callum Watson and addressed with gusto by President John Clark , Bill Welsh set the scene with a couple of Burns' songs before Gordon Johnston stirred the blood with "A Parcel o' rogues in a Nation". John Clark delivered a fitting toast to "The Immortal Memory" before Bill took the floor again followed by a witty toast to "The Lasses, o'" from Callum Watson. A reply to the "Lasses" came from Shona Shaw, a member of Charnwood staff and also a past president of Dumfries Ladies Burns Club No 1.  Bill and Gordon entertained further before the entire company joined in a rousing version of "The Star o Rabbie Burns".  A vote of thanks was proposed by a resident before a happy afternoon closed with "Auld Lang Syne".  The accompanist was Lee McQueen.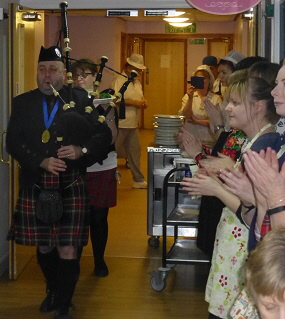 Thanks are due to Morrison's Supermarket for some sponsorship.
The Service Manager for Charnwood, Denise Malone was delighted and has put next year's Burns Lunch in the diary for 25th January 2016.
St Andrews Night Supper at the Globe Inn

One of the most powerful toasts to "Auld Scotia" ever heard in the historic Globe Inn, was delivered at the Burns Howff Club's St. Andrew's Night Dinner, on Monday 1st December.
Guest speaker Dave Scott, a well known Burns scholar and businessman from Duns in Berwickshire, took the Great War as his theme with passing references to the Battle of Flodden in 1513 when King James 1V met his death and to the last battle on British soil in 1716 when the Jacobite cause for the return of the Stewart dynasty led by Charles Stewart, perished at Culloden. But it was the story of the slaughter of 1915 which gripped his listeners when 168,000 British soldiers met their fate in the ill managed campaign at Gallipoli, one of the most disastrous military events to befall the British Empire.  Although Scotland had 1/10th of the population of Great Britain, she suffered 1/5th of the casualties in the "war to end war" but came through "laughing in the face of adversity".  The speaker received a standing ovation and accepted an inscribed tankard.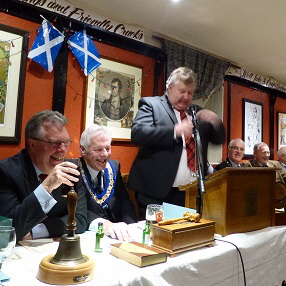 Earlier, the company was welcomed by President John Clark who opened the proceedings with a verse for the occasion written by his late father and introduced the top table and guests which included delegates from Dumbarton Burns Club, President George Dunwoody and Past President John Wallace, and from Dumfries Burns Club, President Arthur Milton and Vice  President Peter Kormylo.
Past President Marshall Laing was presented with a certificate of honorary membership by the President and spoke of his long association with the club and his thanks on being honored.
To mark the 125th anniversary of the club, each of the company was presented with a miniature of blended malt whisky with a special commemorative label produced by T B Watson Ltd.
Contributing to a stellar entertainment programme were guest artistes William Williamson who delighted the company with an impromptu "Highland Fling" as well as several songs, proving he was one of the best tenor voices in Scotland and David Pool from Langholm who caught the moment with a stirring version of "Flowers o' the Forest". Club members Les Byers and Gordon Johnston recited, the latter with an appropriate rendition of Burns' "Parcel of Rogues in a nation", written in 1707 on the union of the parliaments.
Award winning accordionist James Coutts provided accompaniment and played some superb medleys, including a foot tapping "Flying Scotsman" and a session of community singing ended a memorable evening before a vote of thanks from junior vice president William Johnston.
2014 Halloween Supper in the Globe Inn
"Ghaists and houlets" were banished from the Globe Inn on Thursday night when members of the Burns Howff Club gathered for their traditional Hallowe'en Supper, the 125th since the cub was instituted in 1889.  President John Clark welcomed the company which included special guests, farmer Willie Dick from New Cumnock and Tour Guide Cameron Goodall from Edinburgh, as well as the award winning musical duo, Andy Kain, accordion and Craig Paton on the fiddle.
Following supper, Mr Dick, a well known exponent of Burns' poems, regaled the company with a selection of humorous stories featuring characters he had known, all delivered to great effect in his native Ayrshire tongue. The speaker was thanked by the president and accepted an inscribed tankard as a token of appreciation.
Contributing to a stellar entertainment programme were Bill Welsh with songs sentimental and patriotic and Bobby Jess with a hilarious "alternative Tam o' Shanter", loosely based on Burns' famous tale of witches.  Cameron Goodall, no stranger to the club, delighted the house with a recitation of the Bard's poem, "Hallowe'en", the Feast of All Saints (1st November) which coincided with the ancient pagan festival of Samhuinn, where the legends and superstitions survived until Burns' day.
Musical selections were provided by Andy Kain and Craig Paton and a comprehensive Vote of Thanks was moved by junior vice president William Johnston before a raucous rendition of "Auld Lang Syne" brought a memorable evening to an end.
War drum in the Howff
President John Clark welcomed guest speaker Barry Graham to the Club Night on 23rd Oct.  Mr Graham,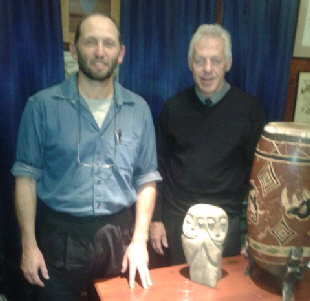 a native of Zimbabwe, then known as Rhodesia, spoke of his childhood in the capital, Salisbury which at that time was ruled by the white minority. As a teenager, Barry formed close friendships with the native population who worked on his parent's farm while he enjoyed a life of privilege and comfort. He admitted to feeling uncomfortable with the brutality sometimes meted out by the whites against the black. Barry moved to South Africa in 1976 in the Apartheid era where conditions were much worse for the locals but he found work in catering and prospered.
Moving to Scotland, Mr. Graham helped to set up the Loch Arthur Community at Beeswing which does sterling work in taking care of people with learning difficulties and where he is now in charge of the cheese shop.
Barry intrigued his listeners with a rendition of an African folk song to his own accompaniment on a richly decorated native drum and got a well deserved round of applause. He also displayed an ancient carved soap stone which curiously bore a certain resemblance to some club members.
A question and answer session was followed by a vote of thanks to Barry by the president.
Robert Burns World Federation Conference 2014
A smaller than usual delegation attended the annual conference on 12th to 14th September at Irvine.  Accommodation was provided in the Menzies Hotel which was adequate if not luxurious.
After registration, club delegates met in the bar for a modest refreshment before the Friday evening dinner. This was followed by a short concert from North Ayrshire young traditional musicians supported by a four piece band, "Lauth".
The business meeting on Saturday morning was well conducted by President Jane Brown but delegates were faced with the reality of the dire financial situation facing the Federation. Incoming president Jim Thomson submitted a plan to turn the situation around and gave the board 12 months to achieve this. Delegates left the session with a degree of optimism. Peter Hughes was elected SVP and Bobby Kane, JVP as the only nominee.
Eschewing the learned seminar after the meeting, club delegates took the shuttle bus to the town centre and enjoyed a bar lunch in the historic Ship Inn and were entertained by Bill Nolan, the bus coordinator from Irvine Burns Club.
Returning to the hotel, members were treated to a superb performance by "Stagecraft", talented  youngsters from St. Michaels Primary School, Dumfries, some of whom took part in the Dumfries Pageant, "Love, Life & Liberty" in July.
The company was ferried by bus to Greenwood Academy for the Conference Dinner. This was unusual in that all the wine was sponsored by North Ayrshire Council, very generous. Jane duly handed over her Chain to Jim Thomson and made an emotional speech of thanks for all the support during her year.  After dinner dancing was to the music of the Andy Kain Band and some club delegates found themselves sashaying to Scottish Country dancing, great fun.
Your reporter drew the second prize in the raffle, a voucher for next year's conference fee!! This was a relief as the first prize was a mountain bike.
Returning to the hotel, members relaxed in the bar before retiring at what I was later told was 2.00pm.
A decision was made to attend the Conference Church Service on Sunday at Irvine Old Parish Church, a historic Kirk dating from 1803.  The service coincided with the end of the local "Mirrimas Festival" and a parade was held to the church involving the Incorporated Trades Organisation, the North Ayrshire Council and other local groups including the Mirrimas Queen and her three Marys, young girls in costume. The service was attended by civic dignitaries, councillors, local MP's and MSP and other groups. Lessons were read by Jane Brown and Jim Thomson. The service was led by the Rev. Robert Travers, also president of Irvine Burns Club. This was followed by a wreath laying ceremony at the Burns Statue on Irvine Moor before delegates departed for home.
A truly enjoyable weekend, expertly organised by Jim Thomson and his committee but with fantastic support from Irvine Burns Club and Irvine Lasses Burns Club and North Ayrshire Council. The magic weather helped.  The club was represented by SVP Callum Watson, PP Ian McIntyre and Hon. Secretary David Smith with spouses as appropriate.  Next year, back to Peebles Hydro.
Club Treasure Hunt
Winners and loser
Members and some friends gathered at the Globe Inn on the evening of 3rd July for the annual Treasure Hunt round the town centre pubs and were warned to return by no later than 9.00pm. Points would be deducted for anyone found to be intoxicated. Route sheets which included the easy-to-follow clues were issued and members were marshalled in teams of four, with "advisors".
The town centre is notorious for massing seagulls and unfortunately, Billy Graham was savaged by a particularly vicious gull and sustained severe fall out.
This year the route took in The Stag, Mississippi Grill, Tam O' Shanter and Dickies Bar as well as the Globe Inn. David Miller's clues proved a walk over on this occasion and members reassembled at the Globe in time and in good order.  After some number crunching by Messrs Miller, G. Johnston and Smith, the winning team, non de plume "Inglorious Basterds" consisting of Lauren McDaid, Neil Johnston, Ian McIntyre and Lee McQueen were each awarded a miniature of the club 125th anniversary whisky by Junior Vice President William Johnston. Runners-up were Godfrey Bedford, Frank Manson, Sandy Mitchell and Billy Graham who received a sweet.
The traditional pies and mushy peas were consumed with gusto. Thanks are due to Kerr Little for donating his succulent pies and to the Globe Inn for the peas.
Club delegation to Wauchope Cairn – Hawick
Godfrey Bedford, Dan Cook, Calum Watson, John Clark with Gordon Johnston, George McDonald, David Millar, Dave Scott
Some of the party of members and friends who made the annual trip to the Wauchope Cairn, Hawick, on Sunday 13th July.
The cairn marks the site of the home of Mrs Elizabeth Scott, (The Guidwife o' Wauchope Hoose), an admirer and correspondent of Robert Burns.
A floral tribute was laid by the president of Hawick Burns Club and an oration delivered by Dave Scott.  Following the ceremony, the company returned to the premises of Hawick Burns Club for a social hour
Draffen Cup
Gavin Findlay, a member in waiting from Dumbarton and Gordon McKerrow, were the winners of the coveted Draffan Cup at the club bowling night at Newall Terrace, by courtesy of Dumfries Bowling Club.  A good turnout of members and friends enjoyed some spectacular sport and afterwards repaired to the Globe Inn for the prize giving and pies and mushy peas.  Thanks are due to Bob Wilson for organising the pairs and to Kenny Crookshanks for manning the bar
Jean Armour Dinner 2014
Members of the Burns Howff Club gathered in the Globe Inn for the dinner in memory of Jean Armour marking the 10th anniversary of the unveiling of the statue of Robert Burns "bonnie Jean" in 2004.
Earlier, Senior Vice President Callum Watson placed a floral tribute on the plinth and invited Gordon Johnston, club Librarian to deliver an oration on Jean Armour and her connection with Dumfries where she lived as a widow until her death in 1834.
On return to the Globe Inn, the company was welcomed by Senior Vice President Callum Watson, deputising for President John Clark who was unable to attend. A special welcome was accorded to delegates from several Burns Clubs and to Alison Tait, Chief Executive of the Robert Burns World Federation. The chairman read a message from Jane Brown, President of the RBWF and an honorary member of the club who was in Australia on presidential duties.
Following dinner, a toast to "Jean Armour" was submitted by Joan McAlpine MSP in which she studied the character of Robert Burns, his well documented philandering and children produced out of wedlock but also his devotion to his wife and loving mother to his children.
Dr. Maureen Milton toasted "The other women in Burns' life" and focussed on the poet's mother, Agnes Brown, with whom Robert had a distant relationship and Jessie Lewars, the daughter of John Lewars, Supervisor of Excise in Dumfries. Jessie was friendly with both Robert and Jean and helped to nurse the poet during the last six months of his terminal illness.
A sparkling entertainment programme was launched by past president by John Caskie supported by guest artistes, Holly Little, currently studying at the Scottish Conservatoire, whose lovely voice and choice of songs delighted the company and Avril Kerr whose droll recitations were a highlight.  Music was supplied by Willie McRobert.  On behalf of all the visiting delegates, President of Dumfries Burns Club, Arthur Milton thanked the Burns Howff Club for their hospitality and at the end of a memorable evening, a comprehensive vote of thanks was delivered by Junior Vice President William Johnston.