2012 to 2013 club activities
Howff Anniversary Dinner 2013
The Howff Club's 124th Anniversary Dinner celebrating the birth of Robert Burns was held at the Globe Inn, Dumfries on Thursday, January 24. This evening brought together 80 Howffers amid the hallowed atmosphere of Burns' favourite inn. There is perhaps really nowhere else to be on this special evening and Howffers were very much aware of their privileged status.
Chairman was Ian McIntyre, president of the Howff who had the undiluted pleasure of introducing a variety of songs, recitations and toasts performed with style and flair by leading enthusiasts of Burns.
The evening started with a rousing performance of "There was a Lad" led by Howffer Frank Curran, which was soon followed by the haggis being piped in by Pipe Major Callum Watson and addressed by the chairman. After dinner, the immeasurable talents within the club could not be suppressed. John Caskie's melodious voice was at its best with "Ay Wauking O" while world-class accordionist James Coutts from Fife took full advantage of the exhilarating ether within the Globe to entertain the company.
A highlight of Howff anniversary dinners is the greetings from kindred clubs that are read in parts with some witty mischief and a measure of the apocryphal by club secretary David Smith. Salutations had been received from dozens of Burns clubs in England, the US, Australia and Europe.
The chairman introduced folk singer Jimmie MacGregor and invited him to deliver the toast to the Immortal Memory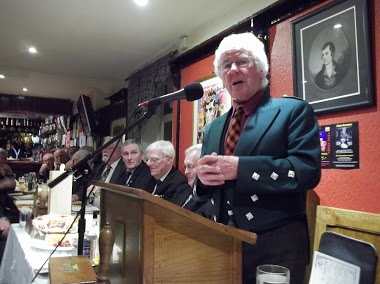 of Robert Burns. MacGregor needs little introduction in Scotland, his fame coming from the regular television appearances with Robin Hall and latterly with his MacGregor's Gathering radio programme.
Now, at the age of 82, he has a shock of white wavy hair, retains the cheeky smile and has an infectious warmth that was born in Glasgow.
MacGregor recalled how in his earlier days the vast repertoire of songs by Burns had not really been fully appreciated and taken advantage by the folkies. His works were in the domain of tenors and sopranos but today all folk groups have a few Burns' songs in their performance.
He believed that Robert Burns saw himself as part of an ancient Scottish tradition, owing a debt to much older poets such as Ramsay and Dunbar. Burns also demonstrated his consideration for Robert Fergusson "his elder brother in misfortune", who died at the age of 24, by commissioning a headstone in Canongate Churchyard.
This was an act that MacGregor felt was particularly poignant and it revealed Burns' compassion for a neglected talent and the revulsion for unmerited privilege, which was a recurring theme in the poet's life.
During the last years of his life, in failing health and struggling financially, Burns devoted his time "building and refurbishing" many traditional songs. The sheer sweat of this unpaid work was remarkable and the notion that Burns was merely an "inspired rustic" was nonsense. The rewriting, corrections, punctuation of manuscripts was the work of a man with considerable talents.
MacGregor continued his journey on a musical theme opining that "A Man's a Man for a' That" should be Scotland's national anthem. It would be one of the rare anthems that didn't proclaim violence and aggression.
He closed with a parody on "Auld Lang Syne" but before that he summed the poet up in the words of Byron, a notorious harsh critic of fellow poets, "What a mind, tenderness and roughness, delicacy and coarseness, sentiment and sensuality, soaring and grovelling, dirt and deity all mixed in one compound of inspired clay."
Piper Callum Watson played a lament but spirits were soon raised when Les Byers led the company in "A Man's a Man".
The programme was temporarily punctuated when Bert Hastings, a Howffer for 25 years and president in 1994, was presented with honorary membership.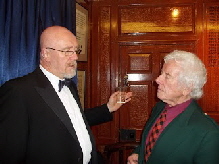 Proceedings resumed with songs from well-known Scottish folk music artist Ian Bruce and a dramatic recitation of Tam o' Shanter by Donald Shamash.
Former MEP, Alasdair Hutton gave a witty toast to the Lassies O' in rhyme, which was followed by Howff club librarian Gordon Johnston with a cocky and swaggering recitation of Burns' "The Inventory."
Several songs and musical interludes from the artistes were well supported by Howffers who were still, despite the passing of midnight, in good and lively form.
Junior vice-president, John Clark gave a fitting appreciation of the singers and musicians and the chairman was thanked by past-president Frank Manson. And as the final fading chords of Auld Lang Syne drifted upwards into the heavens, the Globe Inn was left in peace with its resident ghosts in raucous harmony.
Charnwood Lodge Burns Lunch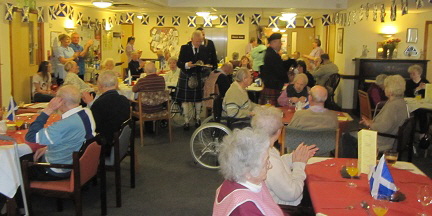 A record number gathered for the annual Burns celebration provided by the club on 27th January for residents of the care home. This year, the event was a Burns Lunch rather than a supper and staff transformed the foyer with flags and bunting into a tartan grotto, complete with portraits of the Bard.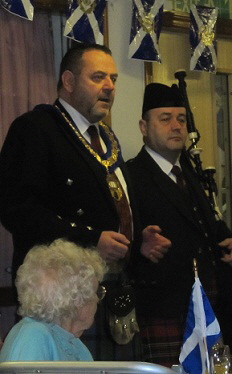 President Ian McIntyre introduced the top table which consisted of John Clark JVP, Gordon Johnston, Librarian, Bill Welsh, past president, Callum Watson, club piper, Lee McQueen, accompanist and David Smith, Honorary Secretary who intoned the "Selkirk Grace". In his introduction, the president said that this function was an important event in the club calendar and members looked forward to coming to Charnwood each year.
After the traditional Scotch Broth, the President addressed the Haggis with gusto and the company consumed the haggis, tatties and neeps with some enthusiasm. Jean Armour's Meringue Nest was a succulent dessert.
The programme got underway with the Loyal Toast proposed by the Chair and Bill Welsh set the scene with a song, followed by a recitation from Gordon Johnston and music on the accordion from the talented Lee McQueen. The toast to the "Immortal Memory of Robert Burns" was submitted with quiet authority by Ian McIntyre and a haunting lament on the bagpipes from Callum Watson tugged at the emotions. Bill Welsh brought a lighter note with a Scottish air and the "Lasses, O" was toasted with wit by John Clark who included a verse or two of "My Luve, is like a Red, Red, Rose." Following another recitation from Gordon, Bill and the entire company raised the roof with the "Star o' Rabbie Burns".  One of the residents, Mrs. Pat Walsh, proposed a hearty vote of thanks and a spirited version of "Auld Lang Syne" brought a happy and enjoyable gathering to an end.
Waiting List Soiree
The club's Waiting List for membership has 21 applicants, the earliest dating from December 2007. In order to assure them that they were not forgotten, a soiree was held in the clubroom on 15th March to which all were invited. Eight applicants together with their sponsors and seconders turned up and were welcomed by president Ian McIntyre and other office bearers.  Ian explained the club's history, traditions and programme and took a number of questions before an informal night of harmony with contributions from members and applicants alike.  A feature was the arrival of haggis pies, kindly donated by past president Kerr Little and consumed with gusto accompanied by Mrs Brown's mushy peas. Lee McQueen supplied music.
It is encouraging that members- in- waiting are enthusiastic and talented and hopefully some vacancies will occur soon.
Seated. Graham Trickey, Andrew Wood, Lex Muir, Don Moffat
Standing. Peter Hutchison, Ian Meechan, Bill Thomson, David Johnston with president Ian McIntyre and members.
St Andrews Night Supper at the Globe Inn
Callum Watson, Tom Clark, Godfrey Bedford, John Glover, Gordon Johnston, Neil Johnston, John Clark, David Smith
Misha Pavlov, Brian Taylor, Ian McIntyre, Dan Cook
There was an international flavour at the Burns Howff Club's annual St. Andrew's Night Dinner held in the Globe Inn o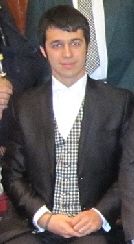 n 30th November.
One of the guest artistes, Misha Pavlov from St. Petersburg, Russia, thrilled the company with the aria, "Largo al Factotum" from Mozart's "Marriage of Figaro".  Misha, a graduate student at the Royal Scottish Conservatoire, later sang from Bizet's "Carmen" and followed up with Burns' "Fetch to me a pint o' wine" and "O wert thou in the cauld blast" with accompaniment of the harmonica.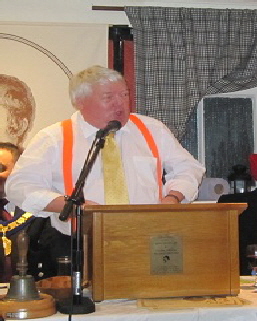 Earlier, members and guests were welcomed by President Ian McIntyre who introduced the principal guest, Brian Taylor, the BBC Scotland's Political Editor. After dinner, Mr. Taylor proposed the toast to "Auld Scotia" and took the company on a tour of "Scottishness" with passing references to the "Scottish Cringe" or the fear of failure, the glories of the Scot's culture of the past, to the resurrected Scottish Parliament as a vehicle for Scot's identity. Describing Robert Burns as an 18th century polymath, the speaker claimed that the poet was fully conscious of his intellectual powers which enabled him to take his place as an equal in Edinburgh literati of the 1780's.  Mr. Taylor asserted that it was acceptable to reach back to the past while living in the present to cherish our authentic "Scottishness".  The speaker received a standing ovation and accepted an inscribed commemorative tankard.
Contributing to a stellar entertainment programme was David Pool from the "Muckle Toon" of Langholm with patriotic songs.  Les Byers gave a stirring recitation of Bruce's address to his troops before the battle of Bannockburn, "Scots Wha Hae" and later, a poetic version of the true story of SS Politician, which, laden with whisky, foundered off the Island of Barra during the war and its cargo was liberated by islanders. The tale was turned into a best seller, "Whisky Galore", by Sir Compton Mackenzie and became a blockbuster film in 1949. Lt. Col. Farquhar McFarquhar, of the Catering Corp., in the guise of honorary member John Glover delighted the company with an anglicised rendition of Burns' "Address to the Haggis" and later appeared as George Formby with a selection of old favourites.  Club Piper, Callum Watson continued the international theme with a Russian medley on the bagpipes.
Community singing led by club songsters John Caskie and Frank Curran brought to a close a night to remember.
Junior Vice President John Clark proposed a comprehensive Vote of Thanks. The accompanist was Willie McRobert.
2012 Halloween Supper in the Globe Inn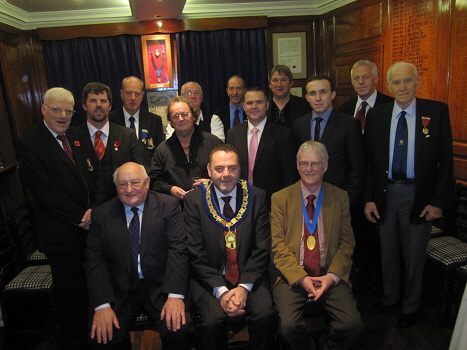 Hallowe'en was celebrated in style in the Globe Inn by the Burns Howff Club. President Ian McIntyre welcomed a capacity gathering of members including guest speaker Mr. Bill Nolan of Irvine. A free-lance PR Consultant, Mr Nolan was formerly head of PR and Communications for Tennent's Scotland and confessed to having many happy memories of travelling worldwide in the 70 and 80's with the famous "Tennent's Lager Lovelies". After dinner, the speaker took the company on a highly entertaining tour of the origins of the Celtic Beltane festival of New Year, marked by the lighting of bonfires and certain rites, still believed to be kept by modern Pagans. Hallowe'en, exported by the Scottish and Irish diaspora, has many guises in cultures throughout the world. Hallowe'en or "All Hallows Eve" was traditionally the day when the spirits of the dead were said to come back through the veil between their world and ours and converse with the living although this was something best avoided. Mr Nolan was thanked by the president and accepted an inscribed tankard.
Contributing to a stellar entertainment programme were the award winning pair Andy Kain and Craig Paton on the fiddle and accordion who brought their instruments alive with selections old and new. Making his first appearance at the Globe Inn was Willie Dick from Ayrshire whose droll recitations from Burns and others delighted the company. Other guests were the Iain Smith trio from Kirkcudbright who with their guitar accompaniment sang from Burns' "Merry Muses". Club members John Caskie and Frank Curran enlivened the gathering with old favourites from their songbook and led the company in a raucous spell of community singing.
A comprehensive vote of thanks was proposed by junior vice president John Clark and a memorable night was brought to an end by a lively version of "Auld Lang Syne".
Jean Armour Dinner
Inclement weather did not dampen the spirits of members of Dumfries Burns Howff Club when they gathered for their annual ceremony to honour the memory of Jean Armour Burns at the statue to the wife of the National Bard, erected by the club in 2004.
A good turnout of members and friends was welcomed by President Ian McIntyre who placed a floral tribute on the plinth and invited Past President David Miller to deliver a brief appreciation of the poet's widow and of her
Later, a celebration dinner was held in the Globe Inn followed by a toast to "Jean Armour" eloquently proposed by honorary member and past president Peter Kormylo who spoke of Mrs Burns' life and times in Dumfries after the death of her husband in 1796 and who outlived him by 37 years in the red sandstone house in what is now Burns Street.
A toast to "The Other Women in Burns' Life" was submitted by another honorary member of the club, Wilson Ogilvie, who touched on the numerous female admirers of the poet from the taverns of Mauchline to the Drawing Rooms of Edinburgh's New Town. Robert, Mrs Burns had said, should have had two wives.
Contributing to a stellar entertainment programme was special guest artiste, Holly Little, winner of the local SSCBA Schools Competition whose lovely voice brought to life favourites "By yon Castle Wa'" and "The gowden locks of Anna" to great acclaim.  Avril Kerr's recitations were delivered with passion and club members John Caskie, Les Byers and Bill Welsh were in top form with songs old and new.
Delegates from Dumfries Ladies Burns Club No. 1 and Annan Ladies Burns Club were welcomed by the president and brought fraternal greetings from their respective clubs.
Following a lively spell of community singing, junior vice president John Clark moved a comprehensive Vote of Thanks before voices were raised in "Auld Lang Syne" at the conclusion of one of the most enjoyable gatherings in recent years.
The accompanist was Willie McRobert.
Annual Club Outing to The Royal Yatch Britannia
Club visits the Royal yatch at Leith by coach then goes to Edinburgh to take in some of the atmosphere of the fringe
25th April 2013
The final Winter Club Night for the season was another visit to the Sulwath micro brewery at Castle Douglas when 14 members and friends were conveyed by another member, Colin Craig, in the customary luxury minibus.
Members were welcomed by Jim Henderson, the founder of the business and after a complimentary pint of beer, the party were given a very entertaining and informative account of the history of beer making and the romantic story of Sulwath, with numerous samples of dried hops and assorted herbs to nibble and savour.
Members took full advantage of the opportunity to buy from a selection of cask beers of all strengths, including the recent "Grace" blend, brewed for the 2009 Homecoming Year
A succulent supper of lasagne and chips followed which helped to absorb the effects of the alcohol and Jim was warmly thanked by President Ian McIntyre before the noisy return journey.
28/03/2013 – Peter Westwood
Peter Westwood, former editor of the Burns Chronicle, was guest at the March meeting and enthralled the company with a talk on Robert Burns family and descendants.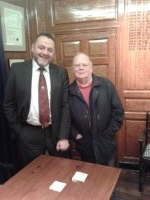 Referring to little known documents and correspondence, Peter told of the rakish exploits of the poet's eldest son, also Robert, whose career as a Treasury Clerk in London was derailed by his gambling and other pursuits. Due to the generosity of his uncle Gilbert, who at the request of Jean Armour, sent £200.00 to keep Robert junior out of debtors jail, a fantastic sum in those days. The same Robert in later life, traded on his father's name and claimed to have fathered 15 children, most of whom died in infancy.
Mr. Westwood questioned the well known tale of Robert Burns having tried to send two carronades seized from the captured smuggling brig, "Rosamund" to the French revolutionaries and read extracts from the poet's letters to Agnes McIlhose (Clarinda).
Much amusement was had in some poems written by local school pupils on Burns in the 2009 Year of Homecoming.
President Ian McIntyre thanked Peter for his entertaining and informative talk and hope he would come back on a future date.
25/11/2012 – Peter Kormylo
Past President and honorary member Peter Kormylo brought the study of Scottish history into the 21st century during his talk on the national Education Scotland initiative.  Peter took the member through the newly relaunched website and explored some of the links and resources which the web provided for studies of Scots history and culture,
25/10/2012 – Rab Wilson
The second of our winter club nights we were delighted to welcome Rab Wilson who spoke on the struggle which the Scots language is going through compared to the funding which gaelic is receiving.
27/09/2012 – David Collins
The season opened for the Burns Howff Club with the first Winter Cub Night in the Globe Inn on 27th September when President Ian McIntyre welcomed a pleasing attendance of members and friends and introduced guest speaker, Mr. David Collin from Kirkcudbright.  Mr Collin, a retired architect and current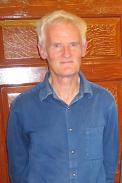 author gave an illustrated talk on the schooner "Prince of Denmark", built on the Moat Brae at Kirkcudbright in 1789. Mr. Collin is publishing a book on the remarkable history of the "Prince" whose disappearance from the records for the 33 years following her launching is explained by her early service as a Revenue Cutter and speculation is made that Robert Burns, who was an Excise Officer at the time of her construction could perhaps have been preset at her launching.  Her reappearance in official records in London in 1822 is detailed and relate to her early voyages to Australia and New Zealand when the thirst for exploration, new lands and new opportunities characterised the early 19th century.  David's narrative covered the visionary colonists, whalers, sealers, Maoris, botanists, butchers, missionaries, coopers, cannibals, convicts, aristocrats, confidence tricksters, explorers and seamen of many nationalities, linked to their contact to the "Prince of Denmark".  Following her shipwreck off the Chesterfield Islands in the Pacific Ocean in 1863, the ship's carpenter rebuilt a smaller schooner from the wreckage named "Hamlet's Ghost". All of which is verified in detail by the ships logs and contemporary records. The voyages of the "Prince of Denmark and "Hamlet's Ghost" highlight the courage, skill and vision of men and women who experienced hardship, danger, adversity, duplicity and skulduggery in their quest for riches in colonial lands of supposed plenty.
Mr. Collin's experience as a sailor and lifeboat crewman, his familiarity with the beautiful and remote islands of the South Pacific, and his presentation skills as an architect, brought to life a complicated story in a clear and dramatic manner which kept his listeners enthralled.
Following a lengthy question and answer session, Mr. Collin was thanked by the president and promised to return with another story next year.