Following the completion of the major project to refurbish the clubroom and anteroom, it was decided to hold an "Open Night" to afford an opportunity to thank all the contractors and sponsors who contributed to the success of the programme.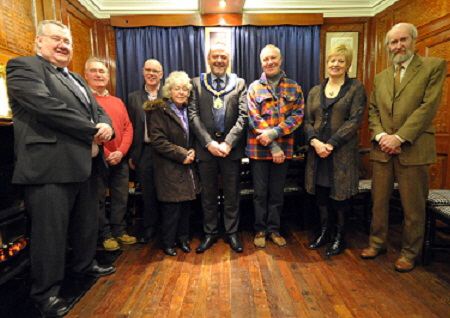 Invitations to a reception on 10th December were sent out to Bruce McGarva, Joiners, Brian Dick, Plasterers, J. B. McCormick, Electricians and Eric Barbour, Painter, who were welcomed by President Ian McIntyre and thanked for the high quality of their workmanship by David Miller, Project Manager. Thanks were also extended to the Community Service Team, for carefully de nailing the reclaimed flooring and to David Scott for providing and transporting said flooring from a demolished asylum in Aberdeenshire. Barlion Upholsterers were mentioned for the fine work in reupholstering the clubroom chairs in the Burns Check material. The Howff Investment Club and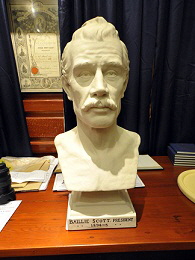 Dumfries Cornets Club were thanked for their generous sponsorship and special thanks to Joe Scherrer for the superb restoration of the club's Centenary Banner and to Colin Hunter McQueen for the repairs to the battered 115 year old bust of past president Baillie James Scott.  Gordon and Maureen McKerrow were again thanked for their support and help during the project and for the donation of books from Gordon's father's library which now has pride of place in the refurbished display cabinets.
At the conclusion, Colin Hunter McQueen presented the club with a fine display plaque of Burns in profile which, in due course, will be suitably mounted in the clubroom.
There followed a high quality buffet supper supplied by Mrs Brown and staff of the Globe Inn supplemented with succulent sausage rolls donated by past president Kerr Little.
The book was finally closed on the long running clubroom and library renovation project on 3rd May when President Ian McIntyre presented a certificate of appreciation to the team from Dumfries Community Payback Unit who spent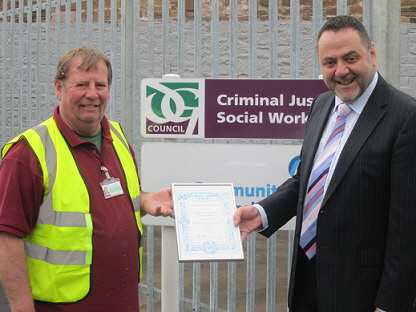 some time last year on de-nailing a large quantity of ancient wooden flooring, reclaimed from a demolished Victorian Mental Hospital in Aberdeenshire. The material was sourced by Dave Scott of Glendale and donated to the club to re floor the clubroom and re surface the tabletops.
As no one from the Payback Unit was available to attend the reception in the Globe Inn last December, it was thought appropriate to show how much their contribution was appreciated and the President and Secretary delivered the certificate to George Moffat, Community Service Officer and Brian Kerr, Workshop Supervisor. Both were delighted and gave the club representatives a tour of the recently opened building in David Street, Maxwelltown. This was Ian's last official act as president.
After many false starts we have finally raised the money to repair and stabilise the centenary banner which lead a procession through the streets of Dumfries in 1896 to mark the 100 years since Robert Burns