As Part of the Howff Club rooms renovations in The Globe Inn and to mark the 400th anniversary of The Globe Inn, we were had hoped to repatriate 3 panes of glass on which Robert Burns had inscribed lines of verse. The glass panes were sold by previous owners of the Inn in 1834 and arrived at the Alloway Museum in 1903, the original panes, which are now in the 'care' of the National Trust for Scotland are extremely fragile and are of undefined value and we were unsuccessful in our efforts to have these returned to their original home. However The Trust has allowed us to photograph the glass panes so that we can have facsimiles produced and hopefully these will be on display in The Globe shortly.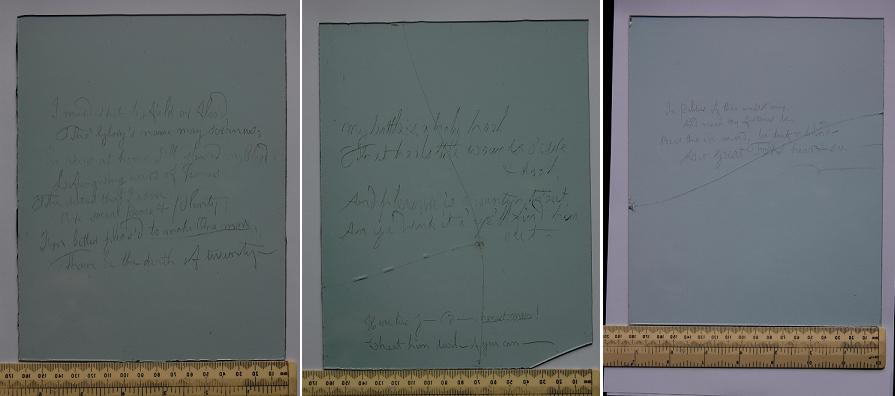 Burns' Windows return home
Almost five years of negotiation with the National Trust for Scotland ended successfully when three window panes inscribed by Burns and removed from the Globe Inn in 1834, were copied by a specialist antique glazier in period glass and should be reinstated in the Globe Inn during the 400th anniversary year.
The original panes, sold by the then proprietors, made their way by a circuitous route to the Alloway Museum in 1903, which was subsequently acquired by the NTS. The panes include the verse
"My bottle is a holy pool,
That heals the wounds o care an dool;
And pleasure is a wanton trout,
An ye drink it, ye'll find out."
Photo shows, left, Matt Sempie, glazier of Alba Glass, President Neil Johnston, and Librarian Gordon Johnston.
Matt has painstakingly reproduces the inscriptions by hand on period glass from photographs taken at the conservators premisses at Hopeton House a ruler was placed in the photograph so that Matt could reproduce the panes accurately.
President Neil Johnston said that "Matt Sempie of Hurry Bros in Glasgow has done an amazing job of the facsimiles are so like the originals"  The only difference from the originals are the repaired breaks and a bit of dirt to age the inscription.
For Display purposed Matt Sempie agreed to copy the inscriptions onto a sheet of toughened safety glass which is to be mounted in the burns bedroom of The Globe Inn. The inscribed glass will protect the remaining original windows inscribed by the bard himself the following photographs show Matt Sempie of Hurry Brothers copying the inscription onto the saftey glass.