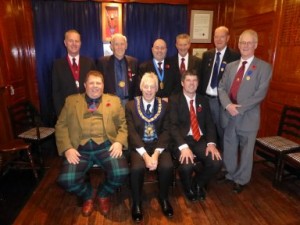 Shown from left to right. Top row – W. Johnstone, D. Cook, C Watson, F. Manson, G. Johnstone, G. Bedford        Bottom Row- Cameron Goodhall, John Clark, Wull Dick
President's Blog Halloween Supper and report . Globe Inn 30th October 2014
After a Spooky start, despite teething problems with the microphone and initial nerves I think the Halloween Supper was a resounding success. Thanks must go to the organising skills of D Smith, D Miller, J Caskie, Gordon Johnstone and the ex-council for organising the programme, seating and Ma Broon, Chef and staff of the Globe for providing an excellent supper!! We were sorry to hear John Caskie couldn't make it on the night but thanks must go to Bill Welsh for standing in at such short notice. Bill was in excellent voice and proved a worthy first reserve. Welcome to new members Bill Thomson, Don Moffat, Graham Trickey and Bob Feelie – we hope you will join in with the varied programme throughout the year!
There was a wee scare when one of the members (John Melrose) had a bit of a turn. An ambulance was called and John was given first aid by past President Godfrey Bedford. Although John was taken away by ambulance I'm pleased to report that he is now on the mend. It was reassuring to know help was not too far away on the night – well done Godfrey and others for assisting John when he was clearly in distress! Best wishes to you, John and a speedy recovery!
The guest speakers were excellent with Wullie Dick from New Cummnock giving us a hilarious, at times bawdy comedy sketch and the mighty Cameron Goodhall for providing us with a fascinating account of ancient Halloween customs, prior to rendering us with a faultless recitation of Burns' poem, 'Halloween'. Musical genius was provided by Andy Cain and Craig Paton – our toes were fair a- tappin and oor hands were fair a -clappin!! Club member, Bobby Jess gave as another brilliant animated recitation which had us in stitches and the evening was wound up with an eloquent vote of thanks by William Johnstone our Junior Vice.
Thanks to those who contributed to the raffle which raised over £230. The collection for the Globe staff raised aprox £82. Bill Welsh led the evening to a close with Auld Lang Syne – and the company rose as one to finish of the night in style. All in all a great night!! Proceedings finished about 11.15pm.
John Clark