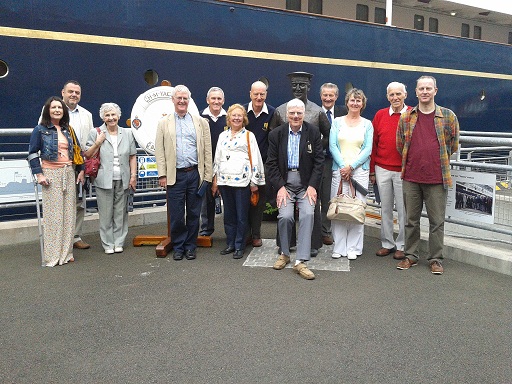 A lot has happened since my last blog entry in March but I can't let Frank Manson's year as President pass without a word in tribute to his superb term of office and to his role as an outstanding ambassador of the club, near and far.
Highlights in recent months included the couthy Fish Supper night at the Globe and the trip to the Devil's Porridge exhibition at Eastriggs in April, also an enjoyable visit to the formidable Dumfries Ladies Burns Club No1 social at the Hole I' the Wa' with president Frank. The annual bowling night this year was held at the plush premises of Dumfries Bowling Club in Newall Terrace where the greens were level and midges were banned and the winners went unrecorded. The trip to Coldstream Bridge and Wauchope were as enjoyable as ever and the club's floral tribute was placed on the bridge at Coldstream with flair by Frank In his last act as president.
The AGM was uneventful and saw a change in Hon. Treasurer and the election of Ian McIntyre as president for the ensuing year and from whom great things are expected.  To my complete astonishment, I was given a framed sketch and verse, composed and drawn by John Clark to mark my 40th year as hon. Secretary.  My sincere thanks to all.
Visitations included the Greenock Burns Club for the ten cent tour and a particularly successful Jean Armour Dinner with inspiring orations from Peter Kormylo and Wilson Ogilvie and first class entertainment and a meal to remember, especially the cheese board. The Treasure Hunt was memorable, I think and the Brow Well Service and social hour which followed was up to the standard expected. "Love, Life and Liberty", the Burns Pageant in Dumfries, scripted by John Cairney, was very well done and reasonably well supported as the company and audience shuffled from point to point.  The new Howff Club umbrellas were pressed into service to shield the musicians from the light precipitation which broke out.  I accompanied the Hon. Treasurer   to Moffat Town Hall on 2nd August for the launch of the memorial CD to the late Lionel McClelland and on Saturday 11th August, the club outing took place to HM Royal Yacht Britannia (fabulous) at Leith followed by an afternoon in Edinburgh sampling the Festival atmosphere before succulent fish & chips at Biggar on the return journey.
Meanwhile, the renovations to the clubroom and anteroom are nearing completion. The results will be well worth the time and effort and all congratulations are due to David Miller for driving the project forward. DS