President's notes on the Trip to the 'Devil's Porridge' April 2015. Final Blog
The last outing by the Burns' Howff Club in my term of office was to the Devil's Porridge at Eastriggs on 30th April 2015 An almost full bus headed off from Brooms Road Car Park to the re-located and recently built premises. With a good tail wind we made excellent time, arriving so early the premises were closed and suspicions were aroused that we may have embarked on a fools errand!
Patience however was rewarded when the guide appeared and duly shepherded us into the building. Richard, the guide, was most knowledgeable and gave us a briefing on the huge munitions factory complex whose breadth covered aprox 12 miles, employing an astonishing 30,000 people. Built originally to supply gun cotton at the start of World War 1, it expanded to cater to the demand for munitions during World War 2. The museum is now state of the art in respect of presentation, with numerous exhibits supported by visual and audio displays.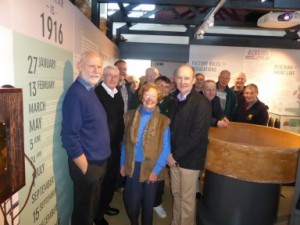 There is a fascinating corner covering the terrible rail disaster that happened during world war 1, near Gretna , which claimed in excess of 200 lives. The new museum is very much worth a visit, even if you have visited the old one and are acquainted with items on show. Within the brand new building, the presentation is much clearer and less cluttered than the old premises. Outside a large compressed air driven locomotive is proudly on display complete with a rather striking livery of camouflage green. Cutting edge engineering in its time!
After some liquid refreshment at the Blue Bell, the evening concluded with tasty fish suppers and rather grand looking Steak Pies, consumed in the famous Cafe Royal in Annan. I'm pleased to report all plates were cleared and paid for without incident (we'll not mention the Italian Job at Moffat). I close my final blog as president with many happy memories. A special mention must go to David Smith (and others in the senior executive) who organise away trips, lectures and other events with such military precision. I look forward to the next twelve months in a more pastoral role and wish our new President all the best in the coming months.
Yours Aye
John Clark
(President Burns' Howff Club)