Elaine Kennedy Report 2015
Elaine Kennedy Feb 2015 Winter Lecture 0n 'Maria Riddell'.
On Thursday 26th of Feb 2015 about 26 members and guests were thoroughly entertained with an engrossing lecture on Maria Riddell – close friend of Robert Burns. Elaine gave a thought provoking account of Maria's life not just during Burns' life but after his death. She touched on how difficult it was in Burns' day for even highly intelligent women to be accepted professionally, academically and intellectually on the same level as men. As well as covering interesting correspondence between Burns, the Riddell family and the well documented falling out between Riddell and Burns, Elaine delved into the travels of a young woman who did not shy away from adventure giving accounts of skirmishes with pirates and white slavers off the coast of Africa on route to the West Indies. Of Burns' attraction to members of the fairer sex and their attraction to him it's understandable why the relationship between Burns and Maria Riddell was perceived in later years by some to be more than platonic. From portraits taken, she was certainly a most beautiful and sophisticated young woman who warmed to his attentions. It is easy to understand how Burns would have been captivated by her many charms. Elaine Kennedy, former curator of Dumfries Museum and the Robert Burns Centre currently works as an editor and historian gave a most interesting and enjoyable lecture on an influential figure in Burns' life.
The winter lectures this year without exception have been enjoyable and stimulating. The club looks forward to the next and final lecture in the programme on the 26th March up in the clubroom 7.30pm when Ian Landles gives us what promises to be a fun filled evening with his Burns Border Tour Part 2. One not to be missed.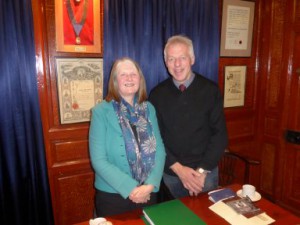 Elaine Kennedy and John Clark
(President Burns Howff Club)